Dra. Natalia Mira
Dental Implants in Medellín Colombia
If you have lost one or more of your teeth, dental implants are an excellent alternative to replace those missing teeth.

They are a definitive treatment option that allows you to recover aesthetics and oral functionality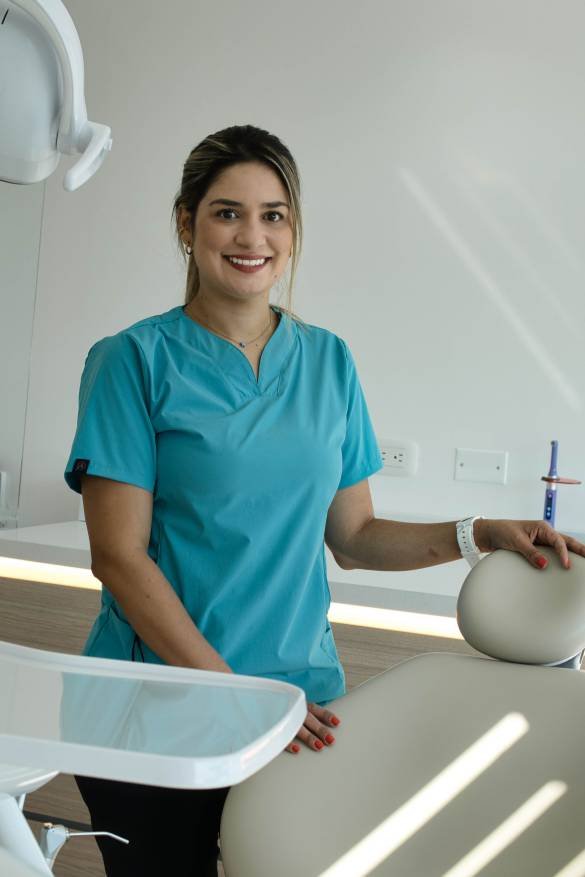 Natalia Mira
Medellín, Colombia
About Me
I am Natalia Mira, Dentist graduated from the University of Antioquia and specialist in Periodontics and Implantology from the Pontificia Universidad Javeriana. My practice focuses primarily on the prevention and treatment of diseases that affect the supporting tissues of teeth and on the placement of implants when teeth are absent.
More about me
Experience
Successful treatments
"Los implantes dentales son una excelente alternativa para reponer las piezas faltantes, como especialista en Periodoncia e Implantología he puesto más de mil implantes en mis 5 años de experiencia, siempre buscando que la estetica y la funcionalidad se asemejen a los de un diente natural."
Dra. Natalia Mira, especialista en Periodoncia e Implantes Dentales.
Dental Implans in Medellin Colombia
SCHEDULE YOUR APPOINMENT, GET A FREE QUOTE.
Agendar Cita
Steps for Implants Placement
1. INITIAL ASSESSMENT AND DIAGNOSTIC AIDS.
A CT scan is ordered and, if required, complementary medical
examinations to plan your case.

If you already have them, you can send us this in advance to get a quotation.
2. SURGERY
Surgical procedure through which the implant is inserted into the planned site. Approximate duration: 30 minutes.
3. GETTING THE CROWN DONE
The final phase: the crown is connected to the implant so its appearance and function is similar to a natural tooth.
Frequently Asked Questions
About dental Implants
How much does a dental implant cost?
The price of an implant varies according to the specific conditions of each patient; additional procedures required such as bone extractions or grafts; the number of implants to be positioned and the type of rehabilitation chosen The price will be determined during the first revision, an estimated range from 400 to 1.300 USD.
What requirements are needed to get an implant?
In general, it is a viable treatment in almost any patient. However, being a surgical procedure, medical conditions such as hypertension or diabetes are required to be controlled. The ideal is to have an assessment appointment in which clarifications are made according to each case. It is ideal to also evaluate if there is any periodontal treatment required.
Does getting an implant hurt?
The procedure is performed under local anesthesia, which significantly reduces the sensation of pain. In relation to other dental procedures, pain rates are lower.
¿Qué formas de pago recibe?
Respecto a las formas de pago recibimos Tarjetas de crédito, Débito, Transferencias y Efectivo.
How long does recovery take?
Recovery time depends on each patient's own conditions. Rest and special care the first 48 schedules lead to a favorable evolution.
Care after surgery
Relative rest, soft and cold foods as well as local application of ice at 10-minute intervals 48 hours after the procedure are recommended. No spitting, NO SMOKING. Do not drink alcohol, take medications as prescribed, and avoid strenuous physical activities. Other recommendations are given in specific cases.
Are there risks?
As in any surgical procedure, there is a possibility of inflammation, bruising, bleeding, mild to moderate pain and other inherent ones such as rejection of the implant. However, one of the goals of planning is to minimize these risks.
Testimonios de Implantes Dentales en Medellín
"El acompañamiento que la Doctora Natalia me ha brindado ha sido excepcional. Estoy muy contento con mis implantes, sus recomendaciones en todo momento fueron un factor para decidir hacerlo con ella."
La Doctora Natalia tiene una calidad humana que te da confianza y tranquilidad, yo tenía mucho susto de ponerme los implantes pero ahora estoy feliz. Sin duda la recomendaría.
Si estas presentando movilidad en los dientes o sientes que tus dientes estan flojos, es un signo de alerta. En…

¿Quieres saber qué es la periodoncia? ¿Qué hace un periodoncista? Resolvamos lo primero, la periodoncia es una rama de la…

Implantes Dentales en Medellín, en nuestro consultorio en Medellín, atendemos cientos de pacientes extranjeros y nacionales, todos inicialmente con una…